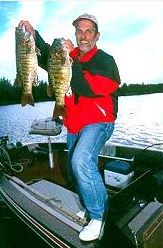 At last the water temperature was right for smallmouths. After two days of fishing for walleyes and pike during a spring warm trend, the water temperature finally hit the magic 55° mark in the shallow bay near camp. As we slowly motored toward a sheltered section of shoreline along the north bank of a large sandy bay, I felt that the fishless areas of the last two days should now harbor cruising, hungry pre-spawn smallies ready to slam into our lures. My partner thought I was crazy, wondering how a shallow flat area that was barren of fish for several days, could suddenly come alive by having a water temperature increase of only a few degrees.
The first casts we made hit about 20 feet apart in a old bed of sparse rushes. The plan was to weave our quarter-ounce spinnerbaits through the rushes, letting them briefly flutter downward in openings or where a water color change indicated a bottom-hugging, flatter rock. Within seconds our retrieves were halted by rod-jarring strikes from belligerent bass. My friend and I were about to experience some great sport from bronzebacks in the 2 1/2 to 4-pound range.
While we would catch and release well over a hundred bass in the next few days, a water temperature rise into the 60's would completely change things. No longer would spinnerbaits through the rushes and shallow-running crankbaits fished in the more open areas produce large bass. Smaller "buck" bass up to about 2 pounds would chase down faster-moving lures, but if we wanted to catch bigger fish, much slower and more precise presentations will be needed.
I'm not an advocate of fish having a preferred temperature range, but during spring, water temperatures can give you strong clues about what various gamefish species area likely to be doing. Let's look at how smallmouth will usually react to spring water temperatures.
UP TO 46-47°
This is one time period where the "early bird doesn't get the worm". No need to get up at the crack of dawn and rush out onto the chilled waters of early spring. Sleep late, have breakfast and start fishing at about 9 or 10 a.m., expecting the best action to occur during the warmer afternoon hours.
Carl Malz, my longtime co-editor and friend at Fishing Facts, and I had several experiences years ago on early season cold water smallies that first proved afternoons are best. On one occasion we had a well-known outdoor writer with us that had to leave by noon. When he departed we had one small bass to show for our efforts. But by 4:30 p.m. Carl and I had caught 18 more. Another time friends of ours were out at midnight on opening day in Wisconsin trying to harvest a few nighttime walleyes before turning to smallmouth during the day light hours. They had one walleye and no sleep at about 1 o'clock in the afternoon. While Carl and I pulled in one bass after another by carefully noting line twitches while grub fishing, they fished like uncoordinated zombies right next to us and caught few fish.
During this cold water period jigs generally work better than anything else. My favorite cold water jig for clear water smallmouth is a 1/8 ounce Lindy Fuzz-E- Grub in black or crawfish. If fishing depths of less than 10 feet I generally don't dress them with live bait, but a small minnow may be head-hooked on one in deeper water, especially on a windy day.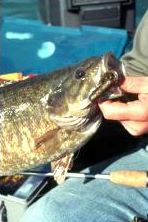 Finesse jigs like tubes and Fuzz-E-Grubs
are tops for cold water smallies.
My standard cold-water retrieve involves keeping the rod tip about a foot or two above the surface and pointed at the retrieved lure. A swimming retrieve generally works best in cold water; two-three fairly slow turns of the reel handle, pause and let the lure hit bottom, then repeat. In very cold water try letting the lure sit 3-4 seconds numerous times during the retrieve before moving it.
One day Carl Malz and I were fishing a deep, clear lake early in the season that had 39-41° water temperatures in the shallows. We discovered, by accident, that letting the jig periodically sit on the bottom was the key to catching the smallies. We boated 19 bass that afternoon-17 of them hit the "dead" jig. When we started up the retrieve, added tension was what told us bass were holding the lure. If fish become more active, jigs such as tubes or swirltails may be used with more of a lift-drop or hopping action.
The proper equipment is important because strikes may be tough to feel. An ideal smallmouth jigging outfit would be a spinning rod between 5 feet 6 inches to 5 feet 9 inches long, that is rated for lines in the 4 to 10-pound test range, My favorite jigging outfit is a 5 foot 6-inch South Bend model P-224 in the System series. Matched it up with a smooth spinning reel spooled with 4 or 6-pound test Trilene XL clear mono. Six pound test Lime Green Berkley FireLine with a 3-4-foot fluorocarbon leader is another option.
47° to 54°
At this temperature range you should experience success with a wider variety of lures. Although jig type lures will still be the number one lure day in and day out, crankbaits can be deadly when fish are a little more active. I let the fish tell me what to use.
There are several keys that clue me in on when to use crankbaits. If the bass start showing aggressiveness toward jigs by hitting the jig as it's sinking, after it has snapped free from a hang, or by taking it deeply, it's time to try crankbaits, which allow you to cover more water.
Jigs may be productive earlier in the day while the bass ignore crankbaits. But during the warmer afternoon hours they could be knocking the paint off the lipped divers. While the water temperature may have risen just a degree or two by afternoon, the bass' body temperature could be considerably higher, causing the fish to be much more aggressive.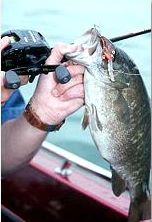 Once the water temperature nears 50 degrees,
the bass will start smashing crankbait.
All gamefish have dark backs and "dark" colors heat up faster and retain heat better than light colors. Biologists have told me that gamefish holding in sunny shallows during warm trends soak up sunlight and can be 4-5 degrees warmer than the water around them. Equate this to how a dark car parked in the sun can be a lot hotter than 90° on a day when it's 90 degrees. Now you can see how a fish's aggressiveness can change dramatically from morning till afternoon, because body temperature can be 5 degrees or more warmer. Faster-moving lures that were ignored in the morning might be just the ticket for afternoon success.
I began to use crankbaits for pre-spawn smallmouth over 20-years ago after editing an article for Fishing Facts magazine by noted smallmouth bass angler Billy Westmoreland. He told of how well they worked, and also commented about how a person in the back of his boat out fished him in cold water while casting to pre-fished spots.
I couldn't wait to try crankbaits on super clear, super tough Lake Geneva in southern Wisconsin, a hard-pounded lake that was being fished at that time almost exclusively with jigs or live bait during the early spring period.
My first trip out was a resounding success, as my partner and I creeled a double limit of smallmouth in the 2 1/2 to 4-pound range, a bonus walleye and numerous smaller bass. But out of the first six bass caught, my relatively inexperienced partner bagged five of them casting to spots I'd already bumped a lure past. My first major lesson was learned about fishing crankbaits for smallies in the chilled waters of early spring – DON'T MAKE JUST ONE CAST TO A GOOD LOOKING SPOT!
This lesson has surfaced many times since.Very often the first cast seems to alert a bass, while the second or even third cast seems to catch them. So if you cast to a prime target such as a shaded slot between boulders, along side a pier, over a fish crib, across a deep, sunken log etc., make sure a follow up cast or two is made.
As waters creep into the 50° and higher range, trolling becomes an important part of my bass-finding game plan. Last year I fished a large, clear, mid-western lake that had three distinct breaklines. One quick drop occurred at 6 to 8 feet, another broke at 10 to 11 feet, and a deep water lip existed at the 23 to 25-foot level. I thought the 6 to 8-foot level was a little shallow, but we trolled that lip for about a half hour, making sure edges that were being pummeled by the wind were fished. Favorite shallow runners such as Berkley Frenzys, size 5 Lindy Shadlings, Storm Thundersticks and Rapalas drew blanks.
My next move was to the deepest breakline, where we trolled Luhr Jensen's 1/4 ounce Hot Lips crankbaits along bottom on 6-pound test. We picked up two large walleyes but no bass.
Our last resort was the edge of the flats that dropped off at the 10-11-foot level. Here we found number of pre-spawn smallmouth, holding on the edge of the sand-gravel flats until conditions were right for them to move up to spawn. Tight-wiggling crankbaits in the 1/4 to 3/8 ounce range were very effective, especially crayfish patterns having some orange. Once we found a concentration of fish around a finger or hump, we'd stop and jig them, but trolling accounted for most of the fish.
Once smallmouth get active enough to hit a crankbait, trolling becomes a devastating way of catching them. If target fishing objects you can see, casting is fine. But to check a long running structure or edges, and often at depths you can't reach with a cast crankbait, trolling is usually far superior. I don't know why more tournament bass anglers don't troll in practice to locate fish, then cast to the hot-spots during the competition.
55° to 60°
At this range pre-spawn smallies area as active as they are going to get. They will usually be up on the flats holding on cover or cruising around potential bedding sites. Quarter-ounce spinnerbaits woven around the remnants of the previous years rushes or reed beds produce bronzebacks if larger scattered rocks are present in the patches. The same lures snaked through fallen trees or around submerged logs will trigger strikes. For checking flatter areas, lipless vibrating crankbaits and minnow plugs such as Frenzy Minnows, Rapala, Rogue, Rebel Minnow or Storm Thunderstick are top choices. When casting to targets such as a scattering of rocks, chunk of wood, sunken barrel, marker buoy or anything else that will provide a hiding place for smallies on a clean bottom, jigs work well. Bass will usually rush out to grab an action-tail jig such as a swirltail or tube, but if they are hesitant to leave their lair due to weather conditions or fishing pressure, try a slow fished 1/16 or 1/8 ounce Fuzz-E-Grub dressed with a leech or half a nightcrawler.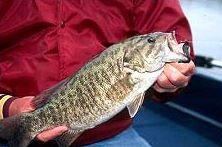 Nothing works better than a leech once the
water nears and passes 60 degrees.
SPAWNING TIME
The first warm trend after the water temperature in the spawning areas hits 60° triggers a movement of bass onto their beds. Faster moving lures that were working a few days earlier now fail to tempt anything but aggressive, smaller, male bass. Now is the time when a slow, very precise teasing presentation is the key to catching the big bass.
Before we get into how to catch these bass, realize that this is strictly catch and release fishing with the barbs of the hooks bent down. Fish should not be netted, grabbed across the back or allowed to bounce around the bottom of the boat. Gently grab the bass by the lower lip, remove the hook and let it go Don't touch its body with a dry hand that can remove protective body slime. Also don't fish for smallies that have egg-eating predators like sunfish around their beds waiting to rush in to gobble up eggs. This is usually more of a problem with bed-fishing for largemouth around weedy areas.
A small spit shot weighing down a nose-hooked nightcrawler or leech will catch virtually every bass you see, unless you come into the spawning area like a rutting moose. Lightweight (1/16-1/8 ounce) jigs such as Fuzz-E-Grubs, tubes or swirltails slowly jigged around the beds will tempt most bass.
A fun way of catching smallies is with a small floating, shallow-running minnow plug used as a top water. If cover allows, the lure is tossed over the bed. Let it sit at least 20 seconds because the bass often swims away then slowly returns. Lightly twitch the lure sending out tiny ripples, pause and repeat. The bass will usually gently suck the lure in and often, quickly blow it out-so you've got to be quick with your hook-set.
Not too many fish excite me like husky, hard-fighting smallmouth bass hooked on light tackle. And if you learn to relate water temperature to the fish's activity level, you can experience some great fishing this spring.