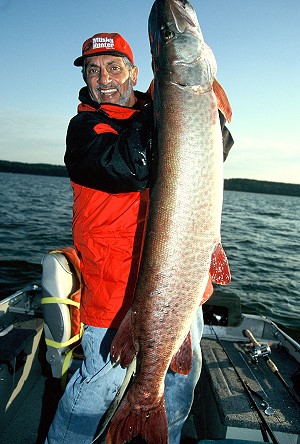 Spence Petros is one of North America's most versatile and well-respected freshwater anglers; author, editor, photographer, teacher, sales rep, and veteran of hundreds of television and radio shows.
Spence has been in the fishing tackle business full-time since August, 1973, when he became the editor of Fishing Facts magazine, a position he held 22-years until their sale in 1995.
Since then he has written for the top magazines in the fishing industry which include North American Fisherman, In Fisherman, Bass Pro Shop's Outdoor World, Fishing Tips & Articles, Crappie World, Bassin', Musky Hunter, and others.
In 1989 Spence was inducted into the Freshwater Fishing Hall of Fame. He was also written up in Larry Colombo's book "The Living Legends of American Sport Fishing" which profiles one hundred of the top people in the industry.
One of his greatest strengths is his ability to teach others in an easy to understand and entertaining manner. He is in great demand as a seminar speaker, and has given hundreds of seminars from New York to Iowa.
Spence gets a special thrill helping beginners and children catch fish. He has volunteered on numerous occasions to work with inner city kids at various events. He has been involved with children at Mooseheart the last few years, worked with local park districts, was instructor during "Jake Day" last summer which was sponsored by the National Turkey Federation, ran casting contests for children last fall at a two-day open house at Sun City in Huntley, Illinois. Some of his fondest memories as a youngster were fishing the yearly tournaments held on Chicago Park District waters. He won them four years in a row. Although he doesn't tournament fish much now, he has fished numerous musky and bass events, and never finished lower than 12th place.
Of all the things he does Petros really loves doing television. He was just voted as one of the favorite hosts of Midwest Outdoors TV show by the public. He was co-host on "The Outdoor Writers", which ran nationally for 26-weeks a year on ESPN.  He has filmed many shows with Babe Winkleman, Al Lindner, Roland Martin and others.
Spence is a hard-charging angler who fishes with tremendous intensity, who can also gear down to help a beginner enjoy the sport. If it swims, it a good bet Petros has caught it at one time or another.