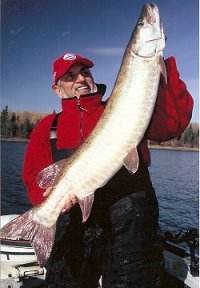 "Here we go again", I thought as my partner Mike Zielonka put his third musky of the day into the net. Minutes later I finally connected with a nice fish. We were on our annual Lake of the Woods fall musky trip and Mike had seriously "big fished me" the last three years. Each year he has boated at least one fish over 50-inches, culminating with a 55 ½ inch monster in October of 2005.
All the big fish came on the outside lines; the ones running over deeper water. To troll safely and with the most accuracy with our tiller-operated boat, I face the shore to read the structures correctly and to avoid rocky out-croppings. I could move the boat out a little deeper and put myself on the deep edge, but my partner would have been over generally non-productive open water. My feeling is to make good trolling passes and who ever catches the fish catches the fish. It's a team effort.
Generally on Lake of the Woods we run a 9-inch Grandma crankbait on the inside line, and a 10-inch Jake on the outside line. The Grandma runs deeper than the Jake, which gives us more space between our lures than if we were running the same lures. If we want deeper running lures, then the combination becomes a jointed Lindy Big M and a Depth Raider. Our line-counter reels are spooled with 80-pound test SpiderWire Stealth. A 3 to 4-foot braided wire leader that prevents the line from cutting on the rocks completes the set-up.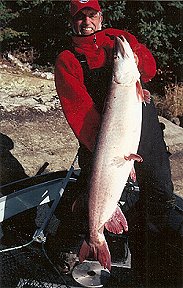 Day two started slow with me catching the first three fish, all under 37-inches. Then it started! The next was a chunky 44-incher, quickly followed by a 52-incher with the girth of a small barrel. It wasn't a true 40-pounder, but a good-sized cisco would have put it close. About an hour before dark a 40 ½ incher slammed my Grandma. What a day 6 muskies, including a fat 52-incher.
I completed all the trolling runs I wanted to cover and decided to try a new area that looked promising. I hadn't gone 100-yards when a hard strike doubled my rod. Within seconds wide sweeping head shakes and a lot of weight told me another big musky was on the line.
The cold water, stiff trolling rod and no-stretch line quickly sapped the big fish's strength. Once in control I slowly slid the big fish into our large Beckman net, which Mike held quietly just below the surface. A quick measurement showed 50 ½ inches. What a day seven fish with two over 50-inches!
While this was our best day, the rest of the trip wasn't too shabby. The two of us ended up boating 26 muskies and about 15 pike to 39-inches in 5 ½ days. It was a good trip but certainly not a fluke. In the 10 years I've making a fall trip to Lake of the Woods we've boated around 240 muskies in 77 days. October is a great time to go, because the trolling bite is hot and it's a lot less tiring than casting during the long hot summer days.