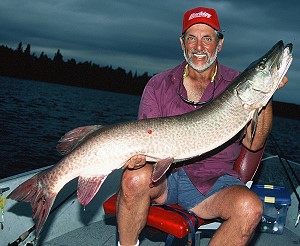 After 41 years I have decided not to conduct my fishing classes any longer. This was a tough decision because I really enjoyed doing the classes and have met so many nice people. Attendance was as good as ever, but other various other factors let to this decision.
For one thing, putting all the slides together every year was pretty time consuming, especially since I had disrupted so many of the presentations for seminars in other locales. Then there was several months of promotion in January and February before the classes started. The two biggest reasons were I am tired of the cold, snowy winters and if I want to take off and go somewhere warm for a while I can. Also, I had two hip replacements and the first one I had done about 15-years ago is acting up. This right hip, along with the right knee, are going to have to replaced in the near future, and the Jan. thru March time frame would be a good period to get it done so I'll be ready to start fishing in April.
I also thought the classes were needed to help my guide business, but most of my dates were taken in 2013 before the classes even started. I'll probably cut back on the May and June guiding schedule and expand it a little earlier and later into the year.
I really wish to thank the many hundreds of anglers that have attended my classes through the years. I've seen many of them become much better anglers. A good number of them have become guides, have done exceptionally in tournaments, have gotten into radio and television, and two of my favorite people, (and past class attendees) Ted Takasaka and Jim Saric have recently been inducted into the National Freshwater Fishing Hall of Fame, which makes me proud since I had a small part in making this happen. I know a number of regulars have been in attendance for over 10 years. I'll miss you guys, but stop by one of the sport shows and say hello.
Remember what you learned in the classes and you'll "never get skunked" again.
Good Fishing!
Spence Petros